But for real though, it is. It's that time of year when everything is happening, and I gotta buckle down and focus on...well everything.
So here's what my calendar looks like for the next few days:
Tomorrow: Dodgeball Tournament and 5k Coordinator Duties
Friday, 03MAY: Dodgeball tournament
Saturday, 04MAY: Corporate Challenge 5k
Sunday, 05MAY:
My baby wittle sister is home!!!
Friday, 10MAY: Classes Stop Day
Saturday, 11MAY: ScoutChallenge Half Marathon
Saturday, 18MAY: Corporate Challenge Half Marathon and Volleyball Tournament
ok, that's as far as I'm gonna go because it's starting to give me anxiety.
Just gotta take day by day, and do my best.
Frankly, I am really excited about the fun busy stuff it's icky busy stuff I left out that worries me.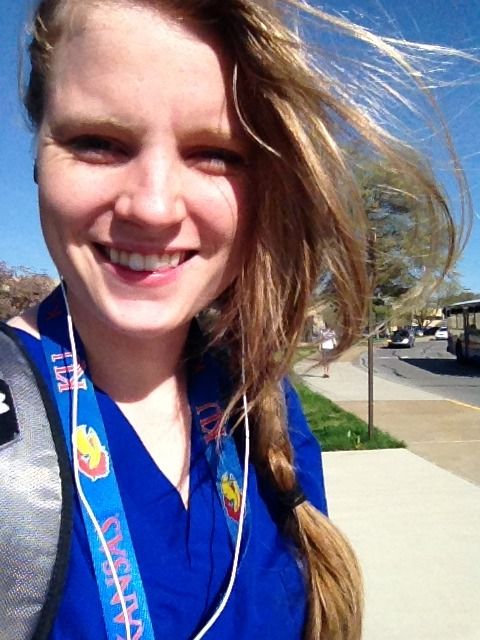 Me after my last lab of the semester, woooo!!! Soooo tired.
Training for the half marathons while body building is proving to be a difficult task. It's all the pursuit of a leaner hot bod, so at the end of the day it's worth it.
Monday, I went running with my bff Stevi, who swore she'd never run and is now signed up for TWO 5ks and ran 3 miles with me on her first day out. Some people are just naturals. Not me though, I spent months gasping for air trying to make it a block without stopping. I always get so excited when someone close to me starts running, and racing. It's such a huge part of my life and being able to share it with people in my close circle is amazing. Can't wait for our next run, I'm secretly just going to train her for a half marathon-she'll never know! JK Stevi, I won't....but maybe...just think about it....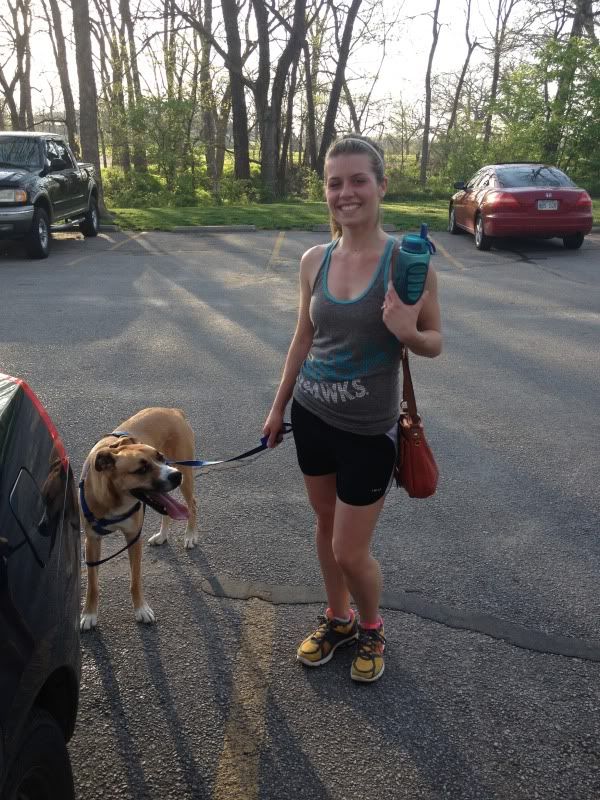 Later that night, it was shoulder day. Shoulder day is quickly becoming one my favorites.
Our Shoulder routine was:
Lat Cable rows 4 sets of 15
Lateral Dumbell Raises 3 Sets of 15
Forward Dumbell rairses 3 Sets of 15
Wolverines (IDK what they are actually called) 4 Sets of 15
Shoulder Press 4 sets of 15
Trap Shrugs 4 Sets of 30
Shoulder raises 4 sets of 25
I was spent. I worked out with Logan and Bob, and it's intimidating working out with dudes who can naturally lift heavy. Pushing heavy weight isn't something natural to me, so it takes a lot and I am competitive so you can imagine what it looked like....
Yesterday, I did a late night chest day with Marysol. So from one of my favorite days to my least favorite. I have no chest muscles....whatsoever. Chest day is brutal for me. It's uncomfortable. I have no motivation. I very rarely feel like I am targeting correctly. It's just hard. Nevertheless, we did it.
Our Chest routine was:
Push Ups to warm up
Flat Bench free weight chest presses 4 sets of 15
Decline chest presses 4 sets of 15
Bench Press 3 sets of 10
Tricep Pull downs 3 sets of 15
Chest Flys 3 sets of 15
Tricep Push Downs 3 sets of 15
Decline free weight chess presses 3 sets of 15, 1 till burn out
Skull crushes 3 sets of 15
and I was spent. Like I said I hate chest day. But you can't just skip it.
Can't have a strong body when you skip a whole muscle group.
My goals for this week have been to cut out sugar again (after Chicago I was fully back into), eat more greens and get in more cardio.
With another run planned tonight, and two servings of greens today I'm on track. Also, no sugar since Sunday so win.
I even bought a cupcake and gave it away. Weird right?
What are you goals this week?
What's your least favorite strength day?